Added June 9th, 2008
Scotty JX updates Horrorbabe.com with chapter 2
see here http://www.horrorbabe.com
New Actiongirls Quotes page go here...
What are people saying about Scotty JX and Actiongirls.com?

"To work with Scotty is great adventure and sometimes it gets kind of
crazy. It's a great workout especially for abdominals because he is so
funny that you have to laugh the whole day. He loves what he does and
that makes action girls special and different from others who creates
websites just to make money, that makes us models to have the same
attitude, to model for action girls is not just work is creativity and
fun."
says .. Veronika Zemanova
"Guns, Girls and Action ! You can't ask for more!. Action Girls is the best High Octane website on the net !!!. And I'm very proud to be part of it."
says... Armando Huerta - Artist
"I love to paint sexy women and I love to paint guns.
In actiongirls.com I got the best of both worlds!
So if you see it from my point of view, this is the kinkiest website out there!"

says... Lorenzo Sperlonga - pin up artist
"Scotty J and Action Girls are a class act.
Sexy women and rock n roll go hand in hand like peanut butter and
chocolate...
And ActionGirls knows peanut butter!"
says... Jonny Hetherington (Art of Dying)
Added May 17th, 2008
Actiongirls.com Volume 5 Now Shipping!
Volume 4 Blu-ray 1 week till shipping!
http://www.actiongirls.com/dvds.html
Volume 4 Review
http://www.digital-retribution.com/reviews/dvd/0850.php
Added February 2nd 2008
Fan Edited Trailer 1 ...
A Scene from Actiongirls Soldiers of the Dead Part 1
1. Soldiers of the Dead Whats New updated
2.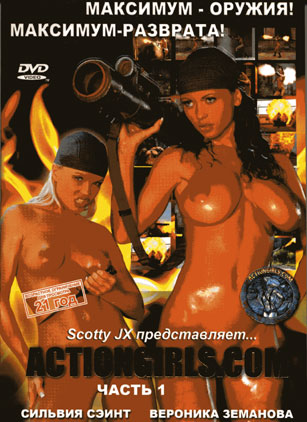 Scotty JX signs deal with Ukranian Video company. Actiongirls goes Ukraine see the box art in Russian here
http://dtak.ua/ru/video/show/135649_actiongirls_com.html?PHPSESSID=59640f4b2467587cab8d07b93bf17cbf
3. Actiongirls Sylvia Saint VS Susana Spears featured in Australlian People Men's Magazine.. December 2007 Issue
People Magazine Australia says...
"Now, some critics have scoffed at Scotty JX's latest attempt to become the Orson Wells of X-rated gun-love. Words like
"plotless" "pointless" and "what the fuck...?" have been bandied about by people who should know better. And. frankly
they could'nt be more wrong. Shame on them. We watched Actiongirls.com Volume 3 12 times last night and we can assure
you there's a plot and it's spectacular."
4. Horrorbabe.com will be featured in upcoming June Issue of Hustler US edition. Im told it will feature a 3 page spread.
5. Currently Scotty JX is working on a box set 3 pack for video stores of Volumes 1-3.
6. digital-retribution.com reviews volumes 1, 2 and 3
Volume 1 review
http://www.digital-retribution.com/reviews/dvd/0729.php
Volume 2 review
http://www.digital-retribution.com/reviews/dvd/0793.php
Volume 3 review
http://www.digital-retribution.com/reviews/dvd/0798.php
7. Digital Retribution opens forum talk on the new Actiongirls Blu-ray
http://www.digital-retribution.com/forum/index.php?topic=7728.0
8. Watch Actiongirls Volume 2 on Pay Per View on Video on Demand under Outrageous TV in the US only.
Added January 21st, 2008
Actiongirls goes Blu-ray! Volume 4 now taking Pre-orders.
Yes finally naked boobs in High Def is here! Imagine Veronica Zemanova 1920 X 1080! Well it's time to stop dreaming, the first of many Actiongirls titles hits Blu-ray for the first time!
"Actiongirls already turned the web on fire reaching over 1 million visits per day! Then continued to put the flamethrowers to the competition with the ongoing Actiongirls.com DVD series! Once the blaze started no one could stop the winds from traveling from Web to DVD to now Blu-ray! This is only the first of many Blu-ray titles to come!" Scotty JX
From Web to DVD to Blu-ray! Actiongirls is on FIRE! If it's hot online wait till you see it in 1080p HD.
Be the first to see the best boobs in the world take over your HDTV on High Def! You won't believe the clarity and beautiful imagery of Actiongirls on Blu-ray! Unbelievable! The Skin Tones, The Color the Detail will blow you away!
With Warner now going exclusive Blu-ray the war of formats look to be coming to a end.... Scotty JX
Scotty JX
Added December 18th, 2007
NOW PLAYING -SEXY CYBORGS & GOTHIC BABES WITH 40 MINS OF NEW EXCLUSIVE VIDEO
From the creator of ACTIONGIRLS.COM comes a new website by Scotty JX - HORRORBABE.COM

Starring... Kobe Kaige, Hana Black, Kathy Lee & Susana Spears
Added December 17th, 2007
Actiongirls Soldiers of the Dead Now Shipping on DVD today! Reserve your copy now! Click Here
Added November 17th, 2007
Actiongirls Soldiers of the Dead Part DVD now taking Pre-orders! Just in time for Christmas! Reserve your copy now before its too late.
Added October 2nd, 2007
FHM says...
"What is it that the American Scotty JX and the Al-Qaida guys have in common? They love to blow up things.
Added September 24th, 2007
Actiongirls.com DVD Volume 3 AVN Editors Choice
Pre-nom: Best Alternative Release; Best Art Direction; Best Cinematography; Best Special F/X; Best Music.
http://www.avn.com/index.cfm?objectID=82E904C8-3757-DC11-A65C8181FC302372
Added September 12th, 2007
Actiongirls Soldiers of the Dead story at AVN.com
http://www.avn.com/index.cfm?objectID=70F9F731-B1EE-818D-931BEAF17B36C7C6&articleID=9A14DC8E-BF81-511B-58505FAEDE9FDE6A
Fleshbot talks about Soldiers of the Dead
http://fleshbot.com/sex/movies/actiongirls-hit-the-big-time-soldiers-of-the-dead-293802.php
Written in Czech Site below story on Soldiers of the Dead
http://www.pornokritik.cz/action-girls-chteji-na-platna.htm
Added August 17th, 2007
Finally Actiongirls Behind the Scenes Page is added. Get a behind the scenes look at whats to come for Actiongirls 2007 and 2008 and previous behind the scenes scoops and stories.
Added June 20th, 2007
Actiongirls Soldiers of the Dead News updated here
http://www.soldiersofthedead.com/whatsnew.html
Another story on the new Actiongirls.com 2007 Movie Trailer
http://sugarbank.com/2007/06/12/actiongirls-2007/
Added June 11th, 2007
Flesh Bot talks about New Actiongirls.com 2007 Trailer
http://fleshbot.com/sex/chicks-with-guns/actiongirls-return-to-kick-your-ass-267897.php
Added June 10th, 2007
New Scotty JX interview
http://www.xfanz.com/blogs/81220
Scotty JX talks about Actiongirls Soldiers of the Dead
Added June 7th, 2007
Hello another Press Release new Actiongirls Trailer

Scotty JX the Sexploitation King unleashes a sneak peak of Actiongirls.com 2007! Featuring... Smoking Babes with Heavy Artillery, Babes and Tanks, Explosions and a whole lot more!

Quote from May 2007 issue of Playboy

Playboy Magazine says...

"Actiongirls.com is The Rolls-Royce of naked-girls-with-guns websites"

Scotty JX promises your mouth will drop when you see this!

http://www.actiongirls.com/actiongirlsmovietrailer.html
Exploitation is BACK

After 3 years in the making Director Scotty JX best known for his Actiongirls.com DVD series has finally finished his new Horror/Sexploitation Movie title Actiongirls Soldiers of the Dead Part 1.

"If you want to be a rebel in Hollywood you have to break new rules. Scotty JX"

SOD (Soldiers of the Dead) has a production budget of 5 million US dollars with over 110 shooting days. The movie is produced and financed by Scotty JX, all rights are owned by Scotty JX. Scotty is currently accepting offers for theatrical release and looking for a sales agent or studio that may be interested in the movie.The movie is shot entirely on HD and is available as a HD Master.
Screener is available upon DVD by request for Press, Distributors and International Sales Agents. The movie is fully edited and ready for release.The R version has not yet been submitted to MPAA. We would like first to see who is interested in movie for theatrical distribution. The running time on both the R and Uncut are 90 mins.
Make sure to visit these 2 pages for info on the stars and Scotty JX

Visit the official Soldiers of the Dead website with info on the Stars and Director here

http://www.soldiersofthedead.com/ (uncut version)
http://ww2.solidersofthedead.com/ (pg version)
http://www.soldiersofthedead.com/whatsnew.html (news updated weekly)

Electronic Press Kits for Movie Available Over 500 Images, Videos and More

SOD Part 1 Synopsis...

Based in the future, the world as we know it has been destroyed. Menacing gangs loot the cities searching for new members. The most notorious of the these gangs is known as Helman's Death Squad. Helman a female slave trader searches for female fighters to compete in his Arena of Death. Winners have a chance of escaping their slavery by leading by his side as his queen. Adriana Zarcova (dressed as nazi) Helman's most prized possession tires of her boyfriend's love affairs and decides to start her own organization when she accidentally stumbles upon secret government plans to create super soldiers of the undead. Adriana uses her newfound plan to to raise a super army of the Undead to crush her boyfriends most prized female fighters. Alone and outnumbered the Actiongirls must battle Zarcova'a growing army of dead soldiers in a fight to the finish.

If you need any more info Please don't hesitate to e-mail me Im sending this out to a few companies as we speak

Scotty

Updated April 10th, 2007
"NEW FLASH" Actiongirls.com Featured in May 2007 Issue of Playboy
Playboy Magazine says...
"Actiongirls.com is The Rolls-Royce of naked-girls-with-guns websites"

Actiongirls.com and Legendary Metal Band Ministry enter into music licensing agreement. Listen to their music here www.ministrymusic.org or www.thirteenthplanet.com

Actiongirls.com and music band Art of Dying enter into music licensing agreement. the first song in their current deal is "You Dont Know Me". Listen to their music here
Actiongirls seen recently In Television
Actiongirls.com and Erica Campbell featured on the Candian version of the Ed the Sock show scene on the G4 channel in the US and on Canadian TV. Ed the sock visits the Actiongirls.com booth in Vegas and interview Erica Campbell.
Actiongirls.com will be featured on a 2007 episode of the UK's Bravo Channels Sex Cities featuring Susana Spears in target practice.
Actiongirls.com and Scotty JX featured on Playboy TV's SexCetera Show 74 a 10 minute Segment click here to read Features interviews with.. Scotty JX, Susana Spears, Adriana Zarcova.
Excerpt Line from Sex Cetera... "If there are two things that every red-blooded American male loves, they're guns and girls. Now, finally, they can be enjoyed simultaneously thanks to Scotty JX and his ambitious website ActionGirls.com. Sexcetera reporter Kira Reed heads to Prague to join Scotty JX to shoot as much heavenly action as humanly possible."
Actiongirls and Scotty JX featured on fourth season of Showtime's Series Family Business. See Adam and Stevie watch Actiongirls on there home television.
Actiongirls Featured recently In Print
Published. Actiongirls.com featured in Playboy 2007 May Issue Cover Anna Nicole Smith. Playboy Magazine says..."Actiongirls.com is The Rolls-Royce of naked-girls-with-guns websites". Features short 2 sentence interview with Actiongirl and Playboy Model of the Year 2005 Erica Campbell.
Published. January Issue of French version of New Look Magazine 2007.
Published. Maxim France Jan 2007 Issue.
Published. Actiongirls.com featured in 2 page spread of November 2006 Hustler Magazine. Hustler Magazine says... "Scotty JX is a genius."
Published. Actiongirls.com featured in 2 page spread of May 2006 Hustler Magazine. Hustler Magazine says... "Action girls showcases beathtaking women who kick ass."
Published. 4 Pages on Actiongirls in Color in L'Echo des Savanes January 2006 Issue France.
Actiongirls.com Water and Fitness DVD - Now Taking Orders. Ships December 1st, 2006. Reserve your copy today Read More
Worldshottestsluts Volume 1 Now On sale! See it here
Viewpornstars.com Erotic Book Shop Now Open! See it here
Meet Scotty JX and Actiongirl Erica Campbell at the Adult Entertainment Expo in Las Vegas January 11th - 13th at the Sands Expo Center. Meet Erica Campbell on the 12 and 13th. Come to the Actiongirls.com booth 5109. There will feature unseen trailers of whats to come in 2007. http://www.adultentertainmentexpo.com/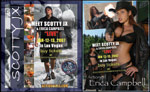 March 11th, 2006
Actiongirls.com featured on cover of May 2006 US Hustler Edition Photos by Scotty JX. The issue is on sale now in stores nationwide. Inside features 3 pages giving Actiongirls.com a excellent review.
March 11th, 2006
Scotty JX releases new website in April 2006 called World's Hottest Sluts at worldshottestsluts.com a JXVIDEO Production. Read more here
January 5th, 2006
Actiongirls.com signs a deal with KC Sales to handle distribution of Actiongirls.com DVDs into Major Mainstream Retailers. This is a 3 year contract. KC Sales is best known for their distribution over the years with Danni Ashe Video.
November 30th, 2005
(Now taking Pre-Orders for Actiongirls.com Volume 1 Original Motion Picture Soundtrack)
This is the first time ever that I have released a soundtrack CD from the Actiongirls.com series. All the music is 100% original and composed for Actiongirls.com DVD volume 1, no license canned music here. This music CD features a Digitally Re-Mastered version from the original with 21 Songs and a running time of 1 hour and 30 minutes. This may be the first time a soundtrack has been released for a website. I spared no expense to give my members and my fans the best quality music money could buy. I care as much about the music as I do the movies. Music helps the scenes be more exciting and is the driving energy behind the movie that controls the viewers feelings. I myself am a soundtrack collector and major fan of music since 13 years of age. Actiongirls.com Volume 1 Soundtrack features the best of the newest composers to hit the scene in years. I spent numerous hours reviewing 1000's of composers work before selecting this group of composers.
November 28th, 2005
(The Army of the Dead Actiongirls.com Movie)
I would like to announce that their is a real full length Actiongirls.com Movie in the works. Army of the Dead will be a complete story from beginning to end unlike the current Actiongirls.com Volumes as they are a collection of strip tease's with short stories for example Prisoner of Hell is a short story starring Sylvia Saint that continues throughout the Actiongirls.com DVD volumes 1-4. But Army of the Dead I plan to shoot for a R rating with a NR Directors cut of course. If Army of the Dead receives a R rating than it can open to a much wider market as the distribution will open up to a wider range. As it stands now the current Actiongirls.com volumes are NR which means they can get a much smaller distribution in the US of course internationally the rules are not the same as in the US. Currently Actiongirls.com DVDs are being distributed by myself.
November 28th, 2005
(When will Actiongirls.com DVD volume 3 be available?)
I would like to annouce the planned release date for Actiongirls.com Volume 3 were trying to get this one out to you in early 2006. It is already edited and finalzied just needs box art and DVD replication. I'm hoping it will be out no later for purchase than March, 2006. The reason for the delay is I am so overworked at the moment as I begin the creation of some new sites that are in the works as well as tackling the editing of 6-8 Actiongirls.com DVDs.
Also I'm working on the release of the Actiongirls.com Soundtracks starting with the volume 1 soundtrack which should go on pre-sale before end of 2005 we hope.
November 15th, 2005
(More info on Actiongirls.com DVD volume 2)
I'm proud to finally announce the pre-release of Actiongirls.com Volume 2. Actiongirls.com Volume 2 DVD ships December 10th, 2005 just in time for Christmas. DVD Volume 2 stars Sylvia Saint, Susana Spears, Ashley Robbins, Martina Fox, Silvie Thomas, Victoria Roberts, Zabrina Aamir, Raylene Richards, Susan Carter and Chantel Williams. The story continues as the Actiongirls fight to survive in this hostile world. The Actiongirls again continue to train themselves in order to combat rapists and maurding gangs. Actiongirls.com DVD volume 2 is a 90 minute title featuring 23 chapters of pure action and babes.
In this episode Sylvia Saint's story continues from volume 1 as she faces off with more gangs and this time corrupt police. Volume 2 reveals a peak inside Sylvia's character's private like as she goes into more physical training. Volume 2 also intoduces Susana Spears for the first time as we get a peak of her background. This volume features tanks and more shoot em up sexy strip tease videos. Its much like the first volume only 2 times bigger as the budget increases. For more info on volume 2 click here there you can read the box cover.
November 11th, 2005
(Welcome Back Veronica Zemanova, Introducing Erica Campbell and Sneak Peak of whats to come for Actiongirls 2006)
Hi Everyone... Its Scotty JX. I just returned from shooting Actiongirls.com Season 4 for the website and DVD volumes 5-13 Over 75 hours of video and many new photosets.
Im glad to announce the return of Veronica Zemanova this season as well new Actiongirl Erica Campbell. Veronica is BACK! and Only here. As well today is the launch of Pre-Orders on Actiongirls.com DVD volume 2 shipping December 10th, 2005. More info on volume 2 and other volumes coming soon.
Thanks to you hard-core members Actiongirls is going to new reaches further than ever before. Hustler Magazine is featuring a 2 page story on Actiongirls.com coming in Feb 2006 and Penthouse Australia will be featuring a 6-8 pages spread on the site. As well look for Actiongirls.com on this coming 4th season of Family Business which will be aired in early 2006 and Playboy's Sex Cetera. This is only the beginning of where things are headed.
August 14th, 2005 Its 2005 and we got a ton of new gear in store.
Actiongirls.com Season 4 is almost finished shooting. Post Production starts November 2005.
Find out the entire back story to the Army of the Dead and discover why Adrianna Zarcova hates Susana Spears and all those she opposes. See new battles between Zarcova's Army of the Dead and other Actiongirls. As well the ongoing Army of the Dead series starring Susana Spears and her partner Emily and much much more.
And of course more Sexy Susana Spears Music Videos....
And lets not forget Adriana Zarcova and Nancy Lane and much more of your favorties and new Actiongirls.
#1 The Actiongirls.com Season 3 is in post production now. Our latest storyline is the Army of the Dead series found in the Susana Spears Movie Section.
#2 The Actiongirls.com DVD's There are 3-8 on the way this year! and more to come.
June 7th, 2005 See Actiongirls.com in this month's Draculina Magazine
Actiongirls.com - Featured in Addict Magazine in France every month.
Actiongirls.com - Interview with Scotty JX exclusive in Bizarre magazine.
Actiongirls.com - Featured in next month's issue of FHM Germany.
Actiongirls.com - Scotty JX was interviewed on the KROQ Show
Actiongirls.com - receives great review in Playboy March 2005 Issue.